Shopping Basket
Your Basket is Empty
There was an error with PayPal
Click here to try again
Thank you for your business!
You should receive an order confirmation from Paypal shortly.
Exit Shopping Basket
Termite Service Program
How it works:  The Termite Service Program is designed to offer you peace of mind from the rising cost of treating your home for termite infestation.  The homeowner pays an affordable annual fee. You will receive an annual termite inspection and if termites are found while enrolled in the program, we will treat the infested area at no additional charge to you. 
Why you need it:  The average cost of treating a home for termite infestation is $1200.  The Termite Service Program provides a more comfortable financial option.
What it costs:  An annual fee of $199.00. 
How to get it:  Ask your service technician to sign you up today!  Or feel free to contact our office at 405-691-4048.
If you want your home free of pests, start with basic home maintenance. 
1.  Make sure there is proper drainage around the exterior of your home.  Standing, stagnate water will attract pests.  Eliminate standing water from the exterior of your home.
2.  Caulk around windows, doors, soffits, and any cracks or crevices that insects can crawl through.
3.  Maintain a tight seal around the exterior doors in your home.  Over time, the sweep on the bottom of the doors can deteriorate. Inspect often and replace when needed.
4.  Keep your pets food area clean.  When not in use, move food off of floor to avoid insects infesting the food dishes.
5.  Keep kitchen clean after meals and avoid leaving food out for long periods of time. 
6.  Sign up for a quarterly pest control program to maximize results.
It's that time of the year again, Swarm Season!  As  the temperature increases so does your chance of experiencing a termite infestation.  Spring is when termites swarm, meaning they leave their colonies to begin new ones.  Now is a great time to have termite inspections as well as pest management services.  Call today to schedule your service.
Come visit our  booth at Remington Park!
Network with members of
OKCMAR
and other affiliates
November 13th 4pm-7pm
The Eclipse Room
               OKCMAR Affiliate Table Top
Networking opportunities

$2,000 in door prizes!

Cash bar!
We will see YOU there!
If the recent rumor of the 'Two-Striped Telamonia Spider' has you checking under the toilet seats let me put your mind at rest.  This rumor, according to
Snopes.com
, is mostly false.  Although the spider itself does exist in Asian rain forests, there have no sightings in North America and certainly no deaths. 
There are two poisonous spiders found in the state of Oklahoma.  The first and most dangerous is the brown recluse.  The brown recluse can be identified by it's light to dark brown color and the distinct fiddle shape found on the pest's back (also lending to the nickname, fiddleback spider).  This shy, nocturnal pest can deliver a venomous and potent bite if threatened.  The bite of the brown recluse will produce an extremely painful pus-filled blister.  The skin surrounding the bite can also be affected and in some cases full recovery can take months.
Oklahomans also should be aware of the black widow.  Although the bite of the black widow doesn't tend to be as severe as the brown recluse, this spider can still deliver a venous sting.    The black widow spider can be identified by it's glossy black color and bright red markings on the belly.  This species of spider is also infamous for the cannibalistic mating habits in which the female kills the male after mating. 
Both of these frightening pests can be found in dry, dark, undisturbed places.  Places such as wood piles, garages, attics, closets, shoes and piles of unmoved clothing.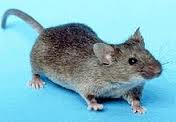 Have you ever heard scratching noises coming from beyond the walls of your home?  Have you ever turned on a light and seen a tiny object scamper across the floor?  Are you finding nests of insulation in your attic?  You have been infested with menacing mice!
These nocturnal rodents become more active and apparent as the temperatures begin to drop into the fall season.  They begin to forage for food.  Mice will eat anything available to them, including their own feces.
These disease-laden creatures pose more of a health risk than you may realize.  Besides the repulsive droppings they leave around the house, mouse urine can cause allergies in young children.  These waste products can also contaminate water sources used by humans.  Mice also carry multiple varieties of parasites that can become infected by biting the mouse, then biting a human. 
So how do you get rid of these unwanted house guests?  You can go the traditional route by placing mouse traps around the baseboards of the house.  Although this method may leave you emptying dead mice from the trap.  Also, certain poisons may kill the mice, but leave your home with a pungent after smell.  The preferred method?  We use bait blocks.  This tiny, but poisonous bait lures the mice to indulge in what they think is food.  As the poison begins to work, the mice leave the structure in search of water.  This rids your home of the rodents, without the dirty work in the end. 
When termites infest your home, most people know a treatment is essential.  But are there ways to prevent infestations in the first place?  Here are a few tips to keep those wood-demolishing pests from invading your home:
Stack and store firewood and lumber away from the house. 
Do not place wood directly onto the ground.
When utilizing mulch in flower beds, place plastic sheeting down before spreading mulch.  This will keep the wood chips from direct contact with the ground.
Limit the amount of moisture around the outside.  Install gutters to detour rain water and minimize watering in flower beds.
Schedule annual termite inspections.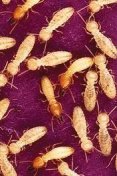 Take special note when moving wood, lumber and mulch.  If you discover termites, it doesn't necessarily mean your home has been infested.  It does mean it's time for a termite inspection by a licensed professional. 
As summer comes to a close, new worries are surfacing.  Worries surrounding the West Nile Virus are swarming.   Even though we have been battling mosquito season since May, the greatest risk of exposure to West Nile Virus begins in July and lasts until October. 
To protect you and your love ones and lower your risks of contracting this virus, here are a few tips issued from the Center for Disease Control:
1.  Protect your exposed skin from mosquito bites.  Use an insect repellent when outdoors. 
2.  Wear long-sleeve shirts and long pants when outdoors between dusk and dawn or stay inside during these hours.
3.  Empty any and all containers that may have standing, stagnant water.
Have you been enjoying these sweltering Oklahoma summer temperatures?  You are not the only one..tiny predators known as scorpions are enjoying them too.  Even though these arthropods thrive in the hot temperatures, they seek moist environments too.  This explains why they can be found indoors when drought-like conditions set in.  
Scorpions are nocturnal, they are most active during the evening hours.  At night, they prey on small insects.  During the sunlight hours, scorpions seek shelter underneath various objects.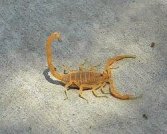 There aren't many species of scorpions found in Oklahoma.  The most common Oklahoma scorpion is the bark scorpion.  This small, tan-colored scorpion can be found in, on, or near trees, loose bark, forest floor covering or woodpiles.
The bark scorpion can deliver a venomous sting.  The sting can be extremely painful and tingling sensations can be expected but life-threatening reactions are rare.  The sting can be treated the same as a bee or wasp sting.
Ready to rid your home of these tiny but powerful pests?  An insecticide must be applied to the interior baseboards, exterior doors, windows and eaves of the home.   Due to extreme temperatures scorpions tend to inhabit attics.  Therefore, the attic must be treated with a powdered insecticide applied with a dusting machine.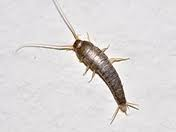 Exterminating pesky silverfish can be tricky business.  Though not poisonous, these tiny silvery-gray pests can leave you with damaged books and hole-filled clothes.  As the name implies, this particular pests have a tapered abdomen that gives them a fish-like appearance. 
The nocturnal silverfish makes his move at night, searching for starchy sources of 'food' such as clothing, paper, books, and other various dry pantry goods.  Though the silverfish can make it's presence known by the damage left behind, they can go for months without nourishment- making them particularly difficult to exterminate.
Think you may have a silverfish infestation?  Some signs to watch for include:  small, irregular holes in clothing or paper, irregular-shaped dark spots on books, 'scraped' book bindings and iridescent, dusty scales around or below the damaged items.
Silverfish can invade your home because of dry, hot  outside temperatures.  The silverfish prefers a dark, humid, damp environment to thrive.  Be sure to keep closets, bathrooms, laundry rooms and basements as dry as possible. 
In order to completely exterminate silverfish a professional insecticide must be applied by spraying the interior baseboards.  The outside of the house must be treated as well by spraying the exterior base, windows, doors, eaves and spreading granules around house.  Finally, a fine chemical powder is misted into the structure's attic.  
/