Shopping Basket
Your Basket is Empty
There was an error with PayPal
Click here to try again
Thank you for your business!
You should receive an order confirmation from Paypal shortly.
Exit Shopping Basket
As summer comes to a close, new worries are surfacing.  Worries surrounding the West Nile Virus are swarming.   Even though we have been battling mosquito season since May, the greatest risk of exposure to West Nile Virus begins in July and lasts until October. 
To protect you and your love ones and lower your risks of contracting this virus, here are a few tips issued from the Center for Disease Control:
1.  Protect your exposed skin from mosquito bites.  Use an insect repellent when outdoors. 
2.  Wear long-sleeve shirts and long pants when outdoors between dusk and dawn or stay inside during these hours.
3.  Empty any and all containers that may have standing, stagnant water.
Have you been enjoying these sweltering Oklahoma summer temperatures?  You are not the only one..tiny predators known as scorpions are enjoying them too.  Even though these arthropods thrive in the hot temperatures, they seek moist environments too.  This explains why they can be found indoors when drought-like conditions set in.  
Scorpions are nocturnal, they are most active during the evening hours.  At night, they prey on small insects.  During the sunlight hours, scorpions seek shelter underneath various objects.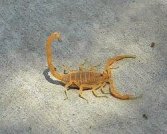 There aren't many species of scorpions found in Oklahoma.  The most common Oklahoma scorpion is the bark scorpion.  This small, tan-colored scorpion can be found in, on, or near trees, loose bark, forest floor covering or woodpiles.
The bark scorpion can deliver a venomous sting.  The sting can be extremely painful and tingling sensations can be expected but life-threatening reactions are rare.  The sting can be treated the same as a bee or wasp sting.
Ready to rid your home of these tiny but powerful pests?  An insecticide must be applied to the interior baseboards, exterior doors, windows and eaves of the home.   Due to extreme temperatures scorpions tend to inhabit attics.  Therefore, the attic must be treated with a powdered insecticide applied with a dusting machine.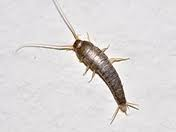 Exterminating pesky silverfish can be tricky business.  Though not poisonous, these tiny silvery-gray pests can leave you with damaged books and hole-filled clothes.  As the name implies, this particular pests have a tapered abdomen that gives them a fish-like appearance. 
The nocturnal silverfish makes his move at night, searching for starchy sources of 'food' such as clothing, paper, books, and other various dry pantry goods.  Though the silverfish can make it's presence known by the damage left behind, they can go for months without nourishment- making them particularly difficult to exterminate.
Think you may have a silverfish infestation?  Some signs to watch for include:  small, irregular holes in clothing or paper, irregular-shaped dark spots on books, 'scraped' book bindings and iridescent, dusty scales around or below the damaged items.
Silverfish can invade your home because of dry, hot  outside temperatures.  The silverfish prefers a dark, humid, damp environment to thrive.  Be sure to keep closets, bathrooms, laundry rooms and basements as dry as possible. 
In order to completely exterminate silverfish a professional insecticide must be applied by spraying the interior baseboards.  The outside of the house must be treated as well by spraying the exterior base, windows, doors, eaves and spreading granules around house.  Finally, a fine chemical powder is misted into the structure's attic.  
Welcome to the L & L Termite, Inc website and blog.  I'd like to share a little about our company and the services we provide. 
We are a small, family-owned and operated business.  We have been based in Oklahoma City for the past 16 years. 
We service the Oklahoma City metro spraying for general pest control, spiders, ants, roaches and other various bugs.   L & L Termite is proud to work closely with multiple real estate companies providing termite inspections, termite treatments and certificates.  However, we happily provide these services to the general public as well!
Please be sure to visit our website regularly for upcoming blogs covering everything pests!
/